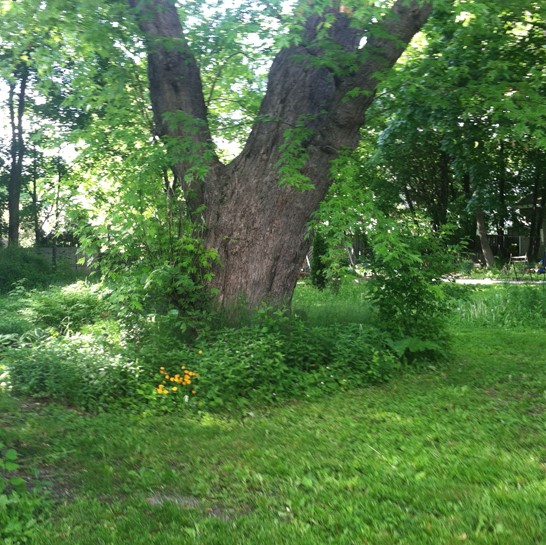 The Beginning
I wish you could have seen the backyard when I first bought the house. Today, I look out at the devastation I have created and wonder, have I gotten anywhere in 17 years?
The house is a small cross-peaked New Englander tucked up close to the street, like so many old houses in Bangor. In the city register it's listed as "a Miniature Victorian." But apart from the regal (if not humble) profile it cuts in an otherwise run-down neighborhood the house has few details that would distinguish it as Victorian. Inside there are contoured door and window casings, bulls-eye molding. Creaky hardwood floors are mostly uneven and discolored with the patina of age. It's an aesthetic I have grown to love since moving to Maine at 21.
Abandoned for many years, both the house and the yard had been sadly neglected. The sale closed December 2002 and I moved in a month later. I invested in a mess. But more on the house some other time.
Slightly more than a quarter acre, the lot was for me an ideal urban space. Long and somewhat private, it was a potential stage for lawn parties and outdoor fun, an extension of the house. It is important to note, I knew nothing about gardening. Nothing. I killed house plants. Vegetables were things you bought at the store. Other people were growers. Besides, the yard was secondary to the house. I was content in knowing that there were living things on my new property that appeared to need no maintenance.
I have no memory of what the backyard looked like as I went through the buying process, and for most of the winter afterwards whatever was under snow (except for the trees) was a mystery. But by April I could clearly see the outline of tire tracks across the yard. The melting snow collected into random pools that didn't drain. Later that first Spring, after the water finally soaked in, I pulled on my boots and began to explore. For me, that first walk through my backyard was an expedition.
On the border between my yard and the house behind me was a rickety picket fence. A dead tree stretched precariously over into my neighbor's yard. Another dead tree reached out from a corner at the edge of a brigade of gangling Norway Maples that grew across the back of the lot. All winter I watched the snow collect on top of what I believed was a small hill beneath those trees. After the melt a thick carpet of green was revealed. At first I was thrilled; my very own knoll! But the thick greenery turned out to be a three-feet-high and wide-as-my-yard mass of debris.
Another stretch of Norway Maples and several sickly Crabapples bordered my neighbor to the right. On the left a sad looking Walnut loomed over a choir of sucker trees. A short stretch of fence smiled drunkenly among the whiskers.
But the showcase in the yard was a massive Norway Maple about twenty feet from my back porch towards the left of the property. It was so big that the canopy stretched above my roof and shaded about two thirds of the yard; The Big Tree.
I grew up in manicured suburbs. Lawns were thick carpets of grass. Landscaping was an accessory. The concept of a naturalized lawn—let alone an edible one—had not yet been introduced. I knew enough to be excited by the possibilities of my yard, but not enough to be daunted by the magnitude of what was necessary to revitalize the untended landscape.
As Spring turned to Summer, I became aware of clay soil. It had never occurred to me that soils could be different. Soil was soil: dirt. Sand was sand: beach. Any other nuance just wasn't in my lexicon. After every rainstorm water settled into the uneven backyard terrain like a bad head cold. Then unidentifiable greenery began to fill in where I expected plain old grass to grow. I finally asked someone what the virulent ground cover was called. They told me it was a combination of Ajuga and Creeping Jenny. In the shadows of the trees moss formed with insistence. Only the occasional wild strawberry delivered the most perfect tiny gifts that I was glad to have.
But during that first summer my priority was the house. My initial endeavor would be to fix up the back porch. Windows were cracked and nailed shut, it needed a fresh coat of paint. As I scraped, screwed, glued and glazed all summer The Bog Tree came alive. It rustled with all sorts of wildlife. Friends bought me a bird book, and I identified Nuthatches and Downy Woodpeckers for the first time in my life. They appeared exotic. I was thrilled.
Then early one morning, as I sat on my porch planning my work for the day, I realized the yard had become a pool of color. Tiny purple and yellow flowers began to open. Bees flew lazily from flower to flower, The yard rippled and buzzed beneath dappled light. It was entirely beautiful. Something extraordinary was happening behind my house, and I vowed to dive in.